I was in 9th grade at Hempfield High School, sitting in a chair infront of an old giant computer with a floppy disk drive. And I wasn't sure if I could believe what I was seeing.
It was the old, old, OLD library before they renovated sometime around 1994.
24 years ago, my god has it been that long?
Just thinking about it now makes me think the design had to be straight out of the 1950s. Because it was probably built in the 1950s.
I was playing Where in the World is Carmen Sandiego. The game itself was pretty popular, but I bet most people would instead remember the game show version that aired on PBS.
Anyway, there was nothing better to do, especially if you've already read that week's copy of Baseball Digest two or three times.
I just sat down hoping to catch Carmen's henchman or henchwoman, have some fun and maybe improve my rank. You never sat down and just expected to catch Carmen. I had never even heard of anyone catching her. It just didn't happen.
The first hint I got that this might not be an ordinary game came when one witness described the crook as a lady with brown hair. I doubt you remember the game, but there were only 2 or maybe 3 female crooks with brown hair -- and Carmen was one of them. So just the possibility that it was her was there and it created a buzz around the game.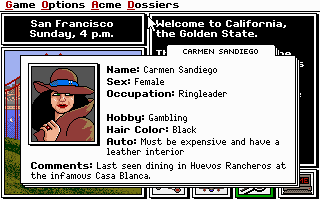 So I continued to enter clues into the database, not really expecting it to be her. Finally, I entered a clue and the computer popped back that I had enough for a warrant -- and it was for........Carmen Sandiego. In 2017 you are laughing at me but in 1994 it was a very big deal.
A big deal indeed, but still I wasn't quite ready to call CNN. If you recall, in that game you had to keep your clues to the identity of the crook straight. If you didn't, you could end up, say -- arresting Eartha Brute with a warrant for Vic the Slick -- and then you would have to walk around the offices of Interpol with egg on your face.
So I knew I had a warrant for Carmen, but I wasn't 100% sure that she was the crook. Like I said -- you just didn't expect to catch her.
I flew from city to city on the trail of the crook. Tension was high. Finally, I made it to one destination and the tell-tale graphic showing a disguised crook in a trenchcoat indicated that I had found the crook and the arrest was imminent.
With each landmark visit, I got closer to my potential date with destiny. One stop, then a second, and finally the third...the chase was on. The cloaked crook ran from one side of the screen to the other, with the 1950s London style police car in chase. Finally we apprehended the international criminal. The local police congratulated me on finally apprehending...Carmen Sandiego.
(Sure the graphics in this game are just north of Etch-a-Sketch in quality, but the tension was palpable.)
Interpol thanked me for my efforts in apprehending the most wanted crook in the world. In recogition of my success, I was promoted to Master Detective. Such honor!
Sitting alone in a corner of the library, I silently enjoyed the greatest accomplishment in my video game career. I couldn't yell out, I couldn't celebrate. I was left to enjoy my success in silent reflection.
Video Game Playing Career Highlights:
1. Catching Carmen San Diego
2. TKO'ing Mike Tyson in Punch Out
3. Finding level 7 in Zelda
Well, after that it was never the same. I had reached the top of the mountain and attained the unattainable. What more could I do?
Weeks later and bored, I figured I would sit down and just give the game another go for old times sake. I entered the floppy and booted up -- but when I tried to log in with my detective name -- I was halted. Detective Richard was recognized as the illustrious gumshoe that nabbed Carmen San Diego -- too famous to continue under that name and pursue electronic law enforcement. With that type of unheralded recognition that could never be exceeded, I never played the game again.
Next time: How we used to sink our rafts on purpose in Oregon Trail so we could write dirty epitaphs on the tombstones of the victims.